YFM250X Wiring Diagrams
Yamaha Bear Tracker 2WD
Use Ctrl+F to search for the bike you need or just scroll down through the YFM250 wiring diagrams. They are listed with the oldest bike first (top of page), newer bikes are below.
1999 Yamaha YFM250X
Bear Tracker 2WD (YFM250XL & XLC)
Yamaha Model Code -
YFM250X wiring diagrams and electrical component list. Electrical components shown in the schematic correspond to the numbered list just above it. For an explanation of the wire color codes, please go to Yamaha Wire Color Code Legend.

1. Main Switch
2. Battery
3. Fuse
4. Starter Relay
5. Starter Motor
6. Rectifier / Regulator
7. CDI Magneto
8. CDI Unit
9. Ignition Coil
10. Spark Plug
11. Starting Circuit cut-off Relay
12. Rear Brake Lever Switch
13. Tail Light
14. Handlebar Switch
15. Engine Stop Switch
16. Starter Switch
17. Lights Switch
18. Headlight
19. Neutral Indicator Light
20. Neutral Switch
21. Reverse Indicator Light
22. Reverse Switch
23. Tail / Brake Light *
24. Rear Brake Pedal Switch *
25. Front Brake Lever Switch *
* for Maine and New Hampshire models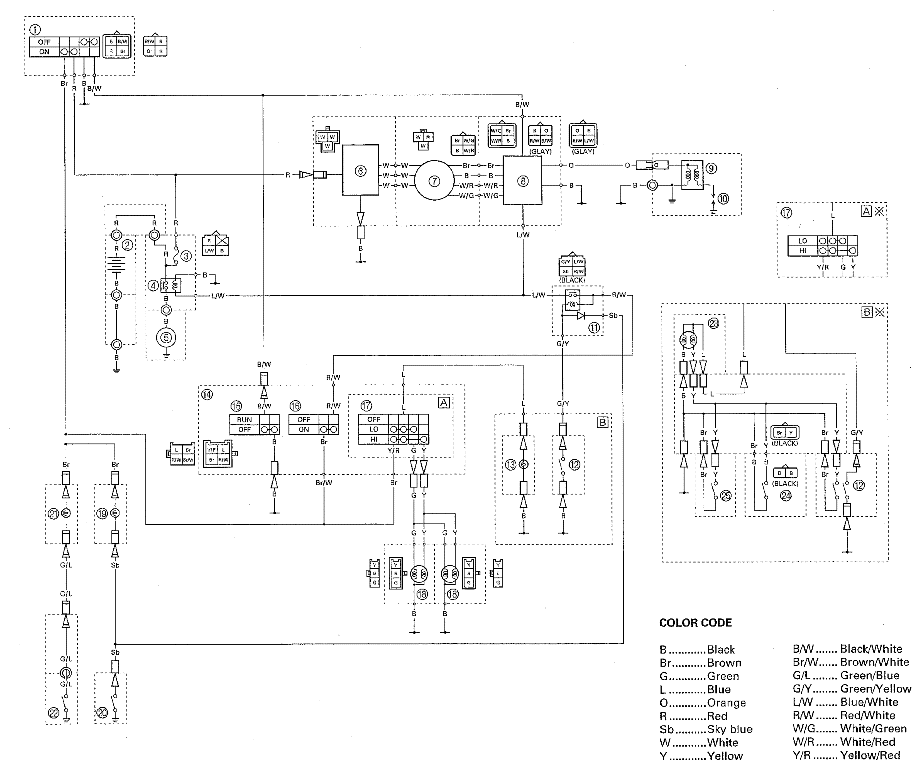 Leave YFM250X Wiring Diagrams for Main Yamaha Wiring Diagram page

Weeks Motorcycle home