Suzuki Service Schematic
Various Suzuki service schematics for trouble shooting, repair and maintenance of motorcycles, dirtbikes and ATVs can be found here.
You add a few lighting accessories and now that you are putting the wiring harness back in the bike it is too short! How does that happen! The main wire harness needs to go back in the way it came out or it won't quite reach all the components.
1989 Suzuki GSXR1100
Wiring Harness Routing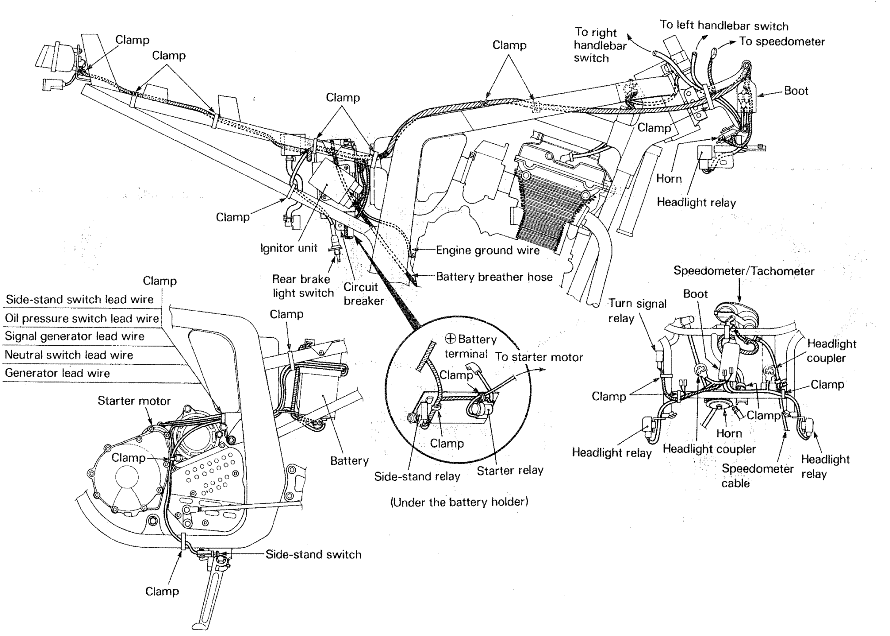 ---
1989 Suzuki GSXR1100
Speedometer Cable Routing
If routed incorrectly, it will not reach or will not have the proper slack, causing excessive wear.
---
1989 Suzuki GSXR1100
Cylinder Head Nuts and Sealing Washers
Rebuilding the GSX-R1100 engine: The cylinder head is put on the cylinder and the cylinder head plate goes in the center (indicated in the diagram by a
1
.
The cylinder head nuts and assorted washers have specific positions indicated by a letter.
A - Copper washer with a cap or acorn nut.
B - Steel washer with normal nut.
C - Normal nut only.
---
Leave Suzuki Service Schematic and go to Suzuki Motorcycles

Weeks Salvage still lives!

Weeks Motorcycle Home