Suzuki Motorcycle Photos
We will add more Suzuki photos as we come across them. There is a photo page under each Motorcycles and ATVs button on the left. The links to more Suzuki bike images are at the bottom of this page.
Do you have an awesome photo of your vintage or brand new Suzuki? We would love to see it! You will find a photo submission form lower on this page.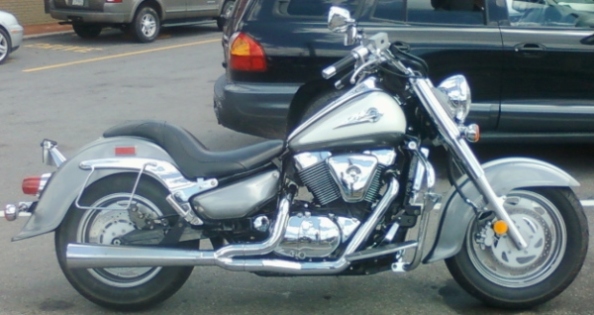 2002 Suzuki Intruder 1500, VL1500 seen at the golden arches in Honesdale, PA. Not a bad couple of photographs, considering that they were taken with my LG phone.

---
Ready to Show Off Your Bike?
Do you have a great photo of your custom utility ATV? Did your Sportbike just get a new paint job? Did you snap some impressive shots at this years Bike Week? Share it!
See What Others Have Contributed!
Click below to see story and photo contributions from other visitors to this page.

Her resting place






I rode my Suzuki C109RT to my Wife's resting place on November 1st, 2011. This is her grave site. My Wife, Donna, had purchased the new bike for …
Larry's model-year 2009 Suzuki C109RT






This is one of my better purchases in life. A (new) model-year 2009 Suzuki C109RT, which I purchased at a Wisconsin dealership in 2011. A huge touring/cruiser, …
---

This 1978 Suzuki GS750, E model had been in a shed for 25-plus years. It had not even been started. Larry got it running in 15 minutes.

I have no idea where the seat went. Love the little "trunk" in the tail fairing. Still debating whether we should part it or not...

2012 Update: This very generous GS750 donated it's engine to a log splitter. I kid you not! Photos will be forthcoming.