Everyone says that all the good motorcycle salvage yards are gone. Some of the old guys retired, it's true. Still there are a few good ones out there but, like us, they have mostly gone online.
Still love that smell of old bikes in the morning? There's nothing like fighting off a nest of yellow jackets to get a nice airbox. Ahhh memories. Here's a few photos of the Weeks Motorcycle NJ junk yard, back in the day of course.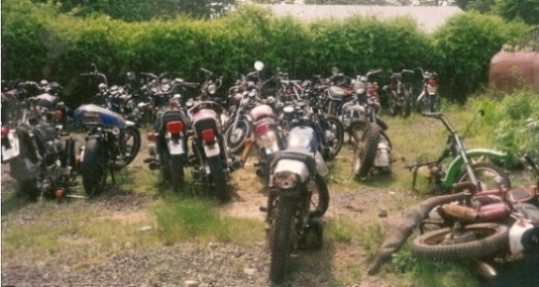 ---
Online Motorcycle Salvage Parts
We moved our salvage yard online. We are an ebay store
Weeks Motorcycle Salvage
now. We no longer store whole bikes and wait for people to come in and get a part off of them. We dismantle a few bikes a year and list all the parts on ebay.
We are currently working on getting a Yamaha triple & a Honda CB ready for listing.
We have worked with a few used parts sellers and salvage yards on ebay that we can recommend.
Willies Cycle is a salvage yard in Alabama. They still have the traditional junkyard. But they also have an ebay store:
WilliesCycle Store.

Derek worked with us when we had the yard in NJ. He sells British and Japanese bike parts on ebay. Some exotic cars and parts too.
Dezlyn68
is his store. He doesn't have a large volume of parts, but they are always accurately described.

Sherif was a customer of ours at the NJ shop. He now has a storefront on ebay, Suicide_Cycles. He always has large volumes of Japanese ATV and motorcycle parts on auction.
Seller Name Sherif333.
Store Suicide_Cycles
If the links do not work, search by his seller name Sherif333.
---
The New Jersey shop and motorcycle salvage yard may be gone, but definitely not forgotten. We are now on Facebook. We want to hear from you.
So, where are you and what are you riding now? Drop us a line or post photos of your bike. Let us know how you are doing.
Weeks Salvage lives on the 'Net!
---
---
Weeks Parts Request
Searching everywhere for a certain used motorcycle part?
Have you been searching the web, ebay, CraigsList and local salvage yards for an elusive, discontinued part for your vintage motorcycle? Send us a Parts Request using the form below.
We do not have a location open to the public but we do have thousands of used parts. We can accept Paypal online payments and ship via USPS.
Go to our
Parts Request page.
---
Traditional Salvage Yards
Here is a list of the few
motorcycle junk yards
that we feel comfortable recommending.
---
Weeks Free Classified Listings