Cleaning the Carb
Float Needle & Seat

Clean the needle with carburetor cleaner and a soft toothbrush or cloth.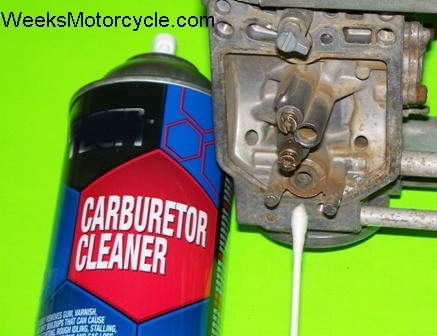 Soak a cotton swab with cleaner and buff the seat and rim.  Once both parts are clean, the needle should function properly.
In the CB450 set of carburetors we used for the photos, the end of the carb float needle that sits in the notch in the float was corroded.  The photo below shows the carb needle we removed next to a new needle.

So in the CB450SC carbs, the needle moved in the seat easily, but was no longer hooked to the float.  The float moving up and down no longer controlled the needle movement and therefore the needle no longer controlled the fuel supply.

If your needle is damaged in this or some other way, it needs to be replaced. 
You can purchase a needle and seat together as an assembly, but sometimes, especially with older bikes, all you can get is the needle.


Replacement Parts: Carb Needle & Seat

If you do have to replace the float valve assembly. K&L Supply has a float valve assembly available for your 1996 DR200SE. It is on page 223 of their 2009 catalog. Needle Valve Assembly, OEM Suzuki part number 13370-44500; K&L part number 18-4666.



Note:

K & L Supply does not sell directly to consumers. The majority of dealers and motorcycle repair shops carry K&L products. You should have no trouble locating a dealer. If you do run into a problem, you can call them, 408-727-6767 to locate a dealer near you.


If the seat looks good, you may want to replace only the carb float needle. The K&L part number, for the needle only, is 18-8957.

If the float needle and seat look good, the float itself may be the problem. As its name implies, it should be watertight and "float". Use a container of gasoline or water to put the float in. Try to hold it under the surface. It should be buoyant. If it sinks, you need a new one. You should be able to easily get one at a local Suzuki dealer. It is the same float used in the current 2009 DR200 model.
Do Not Forget

After all repairs have been completed, remember to change the motor oil and filter. 
Be sure to check the airbox for fuel puddling and empty drains on the airbox bottom.
Also, it is a good idea to be sure that on any carb float bowls that are equipped with a drain nipple, that they have the hoses going from the bowl nipple to the ground.  This prevents any fuel that is trying to escape, to reach the ground.  Avoiding any electrical components or hot pipes along the way.